Our kennel is located on our farm in northwest Arkansas, close to Gravette or about 35 miles north of Fayetteville. We started raising Miniature and Toy Australian Shepherds about 9 years ago. We had a rescue female cross between an Australian Shepherd and Border Collie. She was an amazing girl and was by our side all the time. She helped us work our stock, mend fences or anything else we were doing on the farm. Sadly to say she developed a brain tumor and could not save her. Because of her faithfulness and devotion, we decided to get a registered Australian Shepherd and ended up getting 2 miniature full sisters. We decided to raise a litter of pups out of each of our girls. We bought a male and that was the beginning of our kennel.
We love our dogs because of the devotion, faithfulness and intelligence they possess. It has been a wonderful experience for both of us and we really look forward to meeting and talking to the people who are interested in our puppies. We have sold many puppies locally, delivered puppies to surrounding states and shipped to 38 different states.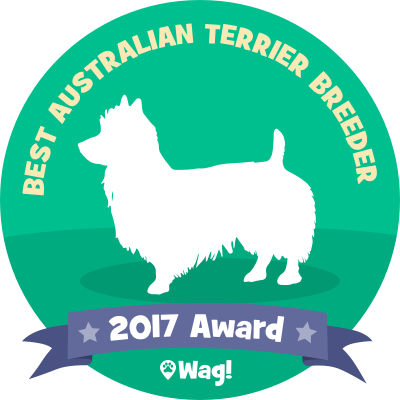 About 3 years ago we became interested in the Australian Terrier breed. Now we have 2 females and a male and have raised a few litters of the terriers. These little guys usually mature to about 10″ to 12" tall and weight around 12 pounds. They are fun to raise because they have a very outgoing personality, are very active and love to run and play.   We have constructed our kennels with the comfort of our dogs in mind.  Our little operation is something we are proud of.
Virgil & Linda Jones
Gravette, Arkansas